It's no wonder that London is known around the world for it's music scene. There are so many bands that got their start in clubs like the Astoria, or Shepherd's Bush Empire that it almost defies description.
London has some great concert venues for big acts as well. Wembley, the Royal Albert Hall, the Earl's Court Exhibition Center, and the Hammersmith Apollo are the main large arenas. The pulse of London's music scene really resides in the clubs around the capital that cater to the up and comers, and the almost there's.
From Shoreditch to Brixton, to Shepherd's Bush, London's music scene truly stretches across the capital.
Here are a couple places worth checking out:
Astoria
and Astoria 2: Located in Soho, these two sister clubs have had some fantastic acts through the years.
They've booked bands like Oasis, Pearl Jam, Radiohead (who has a live album at the Astoria) U2, and the Rolling Stones. This year both Amy Winehouse and The Shins will play there. Gnarls Barkley will perform while we are in London.
Brixton Academy:
In the south of London, this venue used to be known for what I like to call the "ecstasy" acts that played it. Now it pulls from all different scenes. A cozy venue, it only seats around 4,000. Death Cab For Cutie is one act that will be there during our time in London.
Shepherd's Bush Empire:
This is a favorite of mine. I've been to all three of these venues, but the Empire holds a special place in my heart.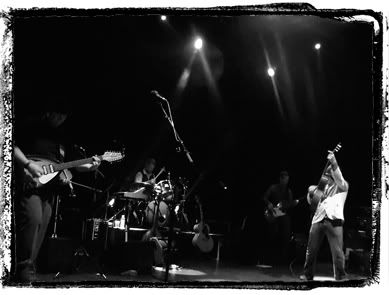 Phish, Elton John, and David Bowie have all graced the stage. It's also the place where the Dixie Chicks dissed President Bush. All in all, a really interesting venue. Eddy Grant, Jason Mraz, Band of Horses, and the Wu-Tang Clan are all playing the Empire while we're there.
This list is far from exhaustive, go to
this website
for a much more exhaustive list. You can also go to the
Wembley website
for a list of many of the acts performing in the U.K. while we're there.
With all this said, this post fails to mention the wonderful live music a lot of pubs have on a nightly basis. All in all, London is a pretty musical place and worth a big mention on this list.