Go to the place where time began! Okay, maybe that's a bit over-dramatic, but the history of time as we know it today began in Greenwich. As the place where all time across the world is measured, Greenwich is a really unique and interesting place to spend a day.
The suburb of London is known for its maritime history and its incredibly well preserved architecture. It also is the place where the
Cutty Sark
is in dry dock.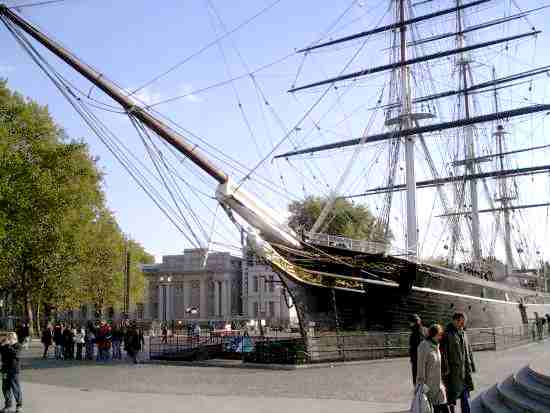 The
Cutty Sark
is a famous English clipper ship that was built in 1869. The
Cutty Sark
was most well known for competing in the tea trade races in the late 19th century. Unfortunately the ship was partially destroyed by fire last year.
The Greenwich Hospital is worth a look -- built in part by Sir Christopher Wren (who rebuilt St. Pauls and a plethora of other churches and buildings in London after the Great Fire of 1666) after the English Civil War.
You can also check out the Royal Observatory (Prime Meridian runs straight through it) which is within Greenwich park. All in all Greenwich is a place that is steeped in maritime history but also has a unique royal history as well.
Old ferries and royal barges used to ferry the elite to Greenwich, where their estate houses were. There's also a cool foot path that goes under the Thames connecting Greenwich to the Isle of Dogs. It opened in 1902, and was quite the amazement in its time.
This is just a quick synopsis of what Greenwich has to offer, and I'm sure I've left out some great things. Without a doubt though, it's worth a day trip out there to take a look at where the world started keeping time.
Directions: There are plenty of ways to get to Greenwich, but perhaps the best way is by boat. It's usually not my style to pimp companies, but the boats from Westminster Pier (near the Houses of Parliament) do a great job of shuttling people between Westminster and Greenwich. You also get a unique look at the capital city this way. If you do this, you'd take the

District Line

or the

Circle Line

to the Westminster Tube Station. The pier is adjacent to Big Ben, and right next to Westminster Bridge. This website give you more info on the boats. It looks like it's only £9.50 for a round trip ticket, which isn't too bad at all.